ThermaCote Thermal Barrier Coating
ThermaCote® is a high-performance thermal barrier coating with superior corrosion protection that can be used indoors and outdoors for both commercial and residential applications. It is made from advanced ceramic technology that reduces the transfer of energy. Once it dries, ThermaCote® looks like latex paint, and it has ultra-low VOCs at 5.3 G/L. It is easy to apply to any new or retrofit construction project and enhances the performance of bat insulation and HVAC ductwork to prevent hot or cool air from escaping a building.
Key Characteristics of ThermaCote®
The qualities that make ThermaCote® a superb product include:
Breathable vapor barrier
Reduced condensation
Low shrinkage due to high volume of solids (12 wet mil thickness = 10 dry mil thickness)
High solar reflectance
High emittance
Low dry fall rate (5–10 feet, depending on temperature and humidity)
Lightweight (5 pounds/gallon, <2.27 kilos per 3.78 liters)
Wide range of application (50f– 300f)
Reduces expansion and contraction
Max white brightness
Sprayer Requirements
ThermaCote® requires a sprayer that maintains an output of 2 GPM (8 LPM). We recommend removing the inline filters on the machine and in the spray gun if filters are present. This prevents clogging of the machine unless there is a coarser filter (30 mesh) replacement. We recommend Graco® sprayers and accessories, for which we are a licensed distributor. Contact us today and we will help you choose the best pieces of Graco equipment to fit your needs.
The Benefits of Applying Thermal Barrier Paint or Coatings
A building's envelope is the physical barrier and interior environment that enclose a structure. The envelope is made up of a series of systems and components that protect the building's interior space from the environment. Some of the advantages of using a thermal barrier coating on the envelope of a structure include:
Efficient planning for your building's envelope.
Substantial energy savings, through increased energy efficiency on an existing building by providing extra protection for insulation that has degraded over time. This prevents hot or cool air from escaping the building, leading to less energy usage. This application also takes work off of a buildings HVAC-R unit and extends the life of their product.
Longevity & protection. ThermaCote® seals substrates which fights corrosion, weatherization, and abrasion. Any porous substrate is able to be sealed, which extends the life of the substrate and protects it from any outside forces.
Sustainable and green. ThermaCote® is environmentally friendly with ultra-low volatile organic compounds (VOCs) in a water-based acrylic formula.
Our Ceramic Spray Coating Is Certifiable
Because of ThermaCote®'s quality and sustainability, we have accumulated a number of certifications and accreditations from organizations that share our. The list includes:
MAS Certified Green™
UL Certified
Member, Cool Roof Rating Council
Rated Product, Cool Roof Rating Council
Rated Product
Member, U.S. Green Building Council
Member, Green Chamber of the South
ISO 9001:2015 Registered Firm
Contact Us Today About ThermaCote® Weather Barrier Coating!
ThermaCote® thermal barrier coating is ideal for protecting a building's envelope from harsh environmental conditions. It can be used with new construction or with retrofit projects and offers superior corrosion resistance—making it perfect for indoor or outdoor applications. You'll also save money in energy costs and improve your company's carbon footprint.
For more than 30 years, ThermaCote® has developed and produced a line of technologically advanced weather barriers and protective coatings to seal the envelope of any structure without polluting the environment. We strive to provide energy-efficient solutions that are tailored to fit your requirements in a cost-efficient manner. When you're ready to use our thermal or weather barrier coating, contact us to receive a quote for your project.
Seal The Envelope
ThermaCote® is a technologically-advanced weather coating that seals the envelope of any structure and protects from heat and corrosion.
Smart Energy Savings
ThermaCote® is a high-performance weather barrier for commercial, residential, exterior and interior, and is a perfect primer or topcoat to seal, protect and save energy.
Serious Sustainability
ThermaCote® is friendly to environments with ultra-low VOC's (volatile organic compounds) in a water-based acrylic formulation.
Product Information Downloads
Cool
Colors
Colors below are approximate and will differ according to monitor and printer settings. To see actual colors, contact us and request a Color Chart.
Sand Beige #26
Buff #45
Latte #47
Oyster #42
Dusk #25
Cappuccino #41
Primrose #39
Sienna #46
Silk Grey #49
Light Sky #37
Mountain Fog #48
Slate #43
Safety Yellow #23
Buttercup #44
Miami Green #32
Sonoma Green #38
Mocha #40
Charcoal #24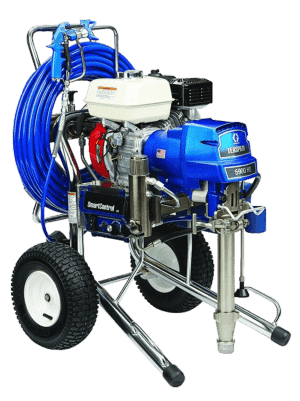 Application Process
ThermaCote® is a single-stage thermal coating designed for application via a heavy-duty airless sprayer capable of maintaining an output of 2 GPM (8 LPM) with a 3/8" pressure-rated hose. Brushing and rolling is not recommended, but may be used in smaller, hard-to-reach areas. Other equipment includes a mixing paddle, variable speed drill, and safety equipment (goggles, respirator, etc.).
ThermaCote® will adhere to almost any surface which is properly prepared and thoroughly cleaned, dry, and free from all dirt, debris, rust, grease, oil, and any other foreign substance. Do not open the product until ready to apply, and plan to mix and use the entire contents of the opened container in one application. Mix ThermaCote® using a mixing paddle and drill until you have a smooth, lump-free homogeneous liquid (2 minutes or less), and apply in coats of a 10 to 25 wet mil thickness (WMT) dependent upon the application. Coverage should average 50 square feet per gallon at 20 mils thickness on flat surfaces, and approximately 80 square feet a gallon on smooth metal surfaces at 13 WMT. Use warm, soapy water for cleanup of tools, equipment, spills and drips.