MDF-500 is an environmentally friendly, non-toxic disinfectant that is your first line of defense against chemical and biological contamination. It is effective in cleaning objects and surfaces to disinfect against all bacteria, viruses, fungi, algae, protozoa, spores, rotifers, and biological toxins. MDF-500 is a high-strength disinfectant that also works as an effective deodorizer. It's stronger than other household cleaners and safer than bleach, making it ideal for a variety of places, including homes, workplaces, gyms, classrooms, and more.
MDF-500 contains no VOCs, while still providing a 99.99% log kill using its patented topical spray foam technology. The topical spray foam can be applied in various methods and made in the USA.

What Is MDF-500?
MDF-500 is a military-grade disinfectant with EPA registration that is effective against a variety of pathogens and viruses. The powerful formula is trusted by many government agencies and commercial organizations around the world.
This patented antimicrobial spray can kill even the hardest-to-reach microbes that other conventional disinfectants cannot penetrate while being safe for all surfaces and for use around electronic equipment. It makes mold and mold spores inactive, kills bacteria, neutralizes toxins, and kills viruses.
Once dried, MDF-500 is inert and odorless, making it an excellent option for use on HVAC-R equipment and ductwork. The powerful industrial disinfectant is effective in a variety of uses including the clean-up of grey and black water flooding, elimination of smoke and other odors, and carpet cleaner.
Best Practices for Using MDF-500
When dealing with chemical products, such as MDF-500, wear the proper personal protective equipment or PPE and keep the product away from your skin and eyes. It is recommended to wear the following PPE for your safety: goggles, gloves, safety glasses, a protective chemical suit, and half face respirator or full face respirator (especially when using the ULV spray system).
While MDF-500 may be used as a general cleaner and for wiping down surfaces, you can use the following equipment when you apply it to large areas: ULV sprayer, standard pump sprayer, and commercial foamers. The application method will determine the equipment needed. Some common application methods include:
Wipe down
Pump-up sprayer
Pump-up foamer
Mist using a ULV cold spray
Airless sprayer with a small tip
MDF-500 is a two-component solution that requires careful attention when mixing to treat the necessary square footage. It is important to note that all mixed solutions should be used within eight hours. For ease of mixing, the two components of MDF-500 are supplied in two separate containers marked as Part A and Part B. Using the application container or separate mixing container, mix equal parts of Part A and Part B to treat the intended area. Do not fill the container more than ¾ full to allow for expansion as the two part solution activates. As a guide, one gallon usually treats approximately 2,500-4,000 sq. ft.

Where MDF-500 Antimicrobial Spray May Be Used
MDF-500 is used for a range of applications including for the U.S. Military and healthcare industry. Many commercial organizations and various hospitals and healthcare facilities use this strong and environmentally friendly antimicrobial spray for destroying microbes.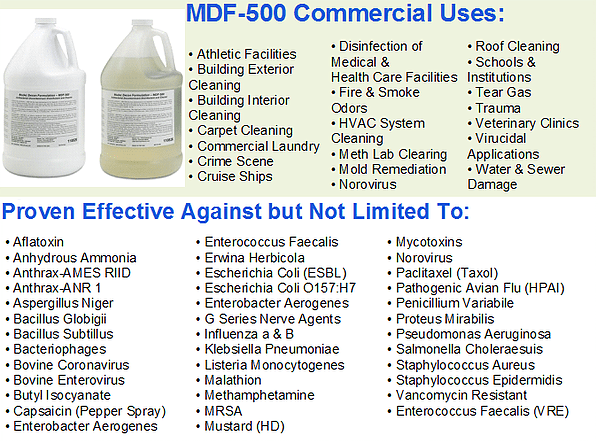 MDF-500 can be used in an array of applications, such as:
Veterinary clinics
Long-term care facilities
Schools
Locker rooms
Public venues
Emergency vehicles
Ships & cruise lines
Public transportation
Remediation
Flooded structures
Crime scene cleanup
Chemical/biological neutralization
Commercial organizations
Contact ThermaCote for Industrial Disinfectants
As a highly concentrated disinfectant, MDF-500 will ensure surfaces with viruses, bacteria, mold spores, and other toxins are decontaminated. Its wide range of application possibilities makes it the go-to product for many industries. To learn how MDF-500 will provide an effective solution for your current decontamination and disinfection methods, contact us today.

Product is sold in 4 gallon kits. Each kit purchased will include 2 gallons of MDF-500 Part A and 2 gallons of MDF-500 Part B