At ThermaCote, Inc., we are dedicated to supplying dependable, high-quality products to clients throughout the construction and home improvement industries. As today's working environments continue fluctuating and adapting, it is more important than ever to provide employees and customers with effective germ-fighting solutions. We offer a range of products for this purpose, including industrial hand sanitizer. Our product is available in several sizes with bulk options that make it easy to keep any job site or workplace well stocked.
Industrial Hand Sanitizer for Use at Work, School, or Home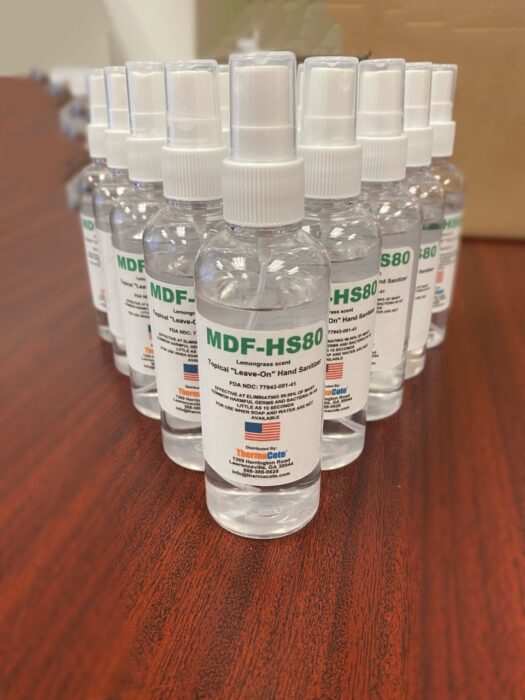 Our MDF-HS80 Topical Hand Sanitizer is proudly made in the U.S. and contains no gel or thickening agents. This gives it a liquid texture that is ideal for use on hands, as many people dislike the feeling of thick and sticky hand sanitizer. It is formulated with the FDA-recommended 80% alcohol, making it highly effective for reducing many common germs, bacteria, and viruses.
MDF-HS80 has a pleasant lemongrass scent. It is comfortable to use, as it dries quickly. Depending on your needs, you can purchase this product in bulk or in smaller amounts. We offer three packaging options, currently:
Our premium hand sanitizer spray is ideal for use in an array of different locales, including:
Offices
Warehouses
Stores
Schools
Restaurants
Waiting Rooms
And More!
Help Fight the Spread of Germs and Viruses!
Regardless of the industry, making hand sanitizer stations easily accessible in certain key areas can reduce the spread of viruses and create a healthier, more hygienic workplace. People touch things constantly throughout the day—in fact, 80% of infections are transmitted through hands. By taking the time to increase the use of sanitizer in areas with heavy foot traffic, you can help keep your employees, students, and customers healthier. In locations where washing with soap and water is not possible, the CDC lists hand sanitizer as one of the best options for avoiding illness and limiting the spread of germs, bacteria, and viruses.
When determining where to set up hand sanitizer stations, you should ensure they are clearly visible and easy for people to access. Making these stations convenient significantly increases the chances that people will utilize them.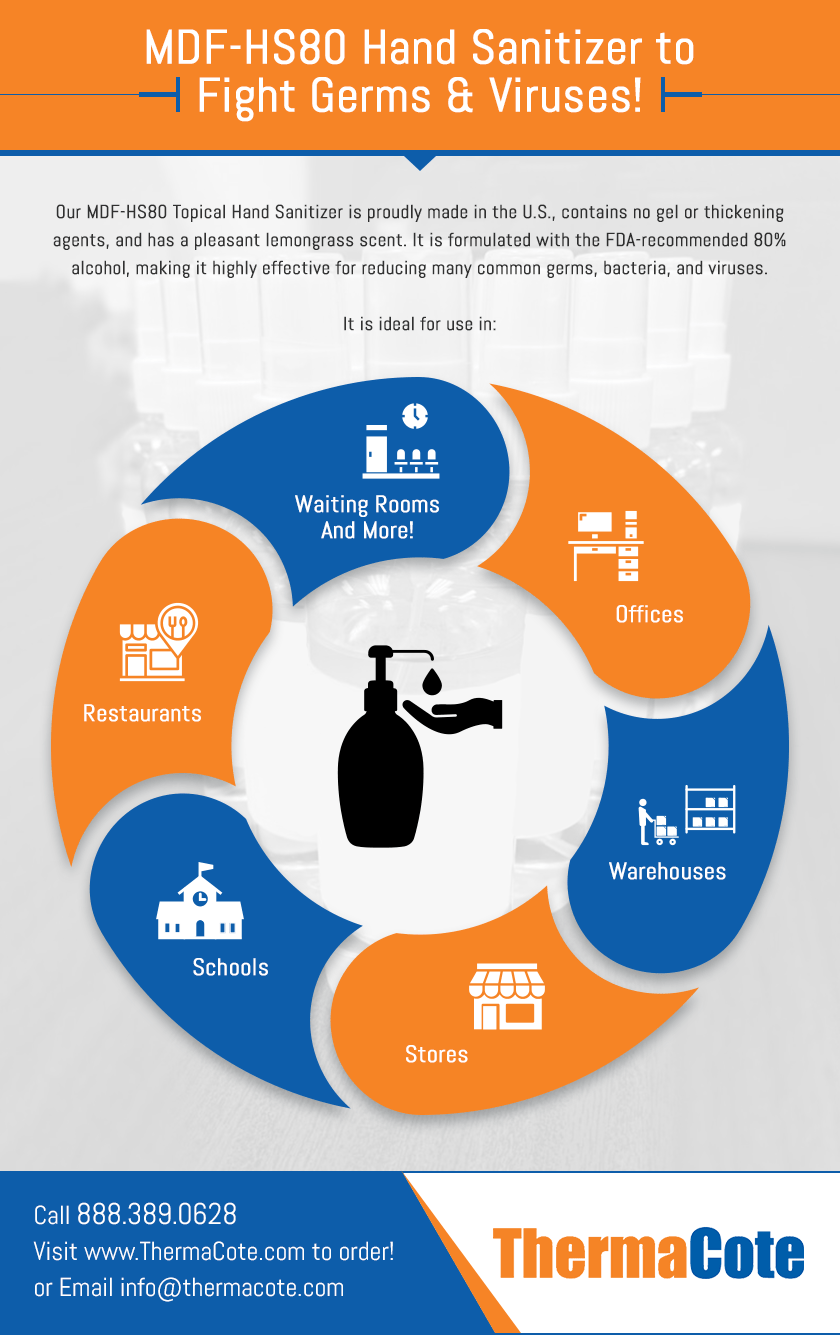 In addition to being easily accessible, hand sanitizer stations are most successful when they are located in communal areas with heavy foot traffic and near high-touch surfaces. A few key areas to place these stations include:
Desks
Break rooms and cafeterias
Restrooms
Entrances
Conference rooms
Auditoriums
Classrooms
Counters and cash registers
To ensure that the hand sanitizer effectively kills germs and viruses rather than simply slowing their growth, the CDC recommends using a sanitizer with an alcohol concentration of at least 60%. Lower concentrations, or sanitizers that do not contain alcohol at all, will kill fewer types of germs and will be less effective overall. With an alcohol concentration of 80%, our MDF-HS80 hand sanitizer spray falls well within the CDC's guidelines.
For the best effect, people should cover all surfaces of their hands with sanitizer and rub their hands together until the sanitizer has fully dried. It is important to avoid wiping the sanitizer off while it is wet, as this will reduce its effectiveness against germs and viruses.
Disinfectant Solutions From ThermaCote
In an ever-changing work environment, the need for easily accessible and effective sanitizing products is a reliable constant. Our MDF-HS80 hand sanitizer spray eliminates 99.999% of common germs and bacteria, and is an excellent tool for promoting hygienic practices in areas where soap and water are not available. With a rapid dry time and pleasant scent, MDF-HS80 is comfortable on the hands and easy to use throughout the day. Visit our online shop or contact us today to learn more about our hand sanitizer and industrial disinfectant solutions.