Description
Safer than bleach, stronger than household disinfectants, and MDF-500 is environmentally friendly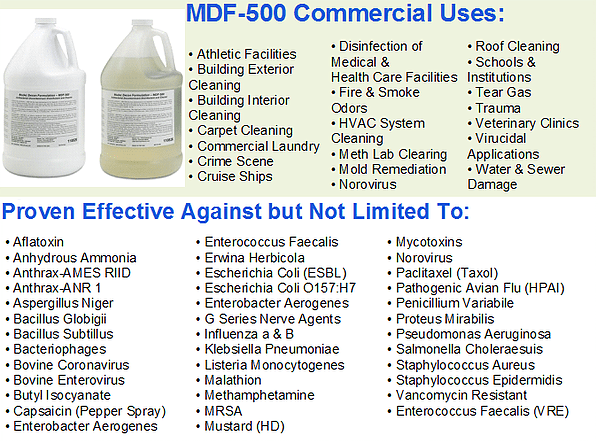 Mixing: Mix solution as necessary for footage to be treated. Mixed solution should be used within 8 Hrs. Mix equal parts of A and B. Product may be mixed in application container. (1 gallon typically treats approx. 2500 – 4000 square feet)
Application Equipment: Electrostatic applications, ULV sprayer, Standard Pump Sprayer, foggers, commercial foamers – Product
may also be used as general wipe down cleaner.
Application Methods:
Wipe down, Pump-Up Sprayer, Pump-Up Foamer, ULV Cold Spray(mist), Airless Sprayer
with small tip
PPE:
Proper PPE should be the first consideration when dealing with a chemical product. Please review our SDS for
product characteristics and requirements. Product should not come into contact with the skin or eyes. Gloves,
Goggles, Safety Glasses, and Protective Chemical suit are recommended. When utilizing ULV spray system, half
face respirator or full face respirator should be utilized.
Widely Used Applications for MDF-500 Include:
Athletic Facilities
Building Exterior Cleaning
Building Interior Cleaning
Carpet Cleaning
Commercial Laundry
Coronavirus
Crime Scenes
Cruise Ships
Fire and Smoke Odors
HVAC System Cleaning
Meth Lab Clearing
Mold Remediation
Roof Cleaning
Schools and Institutions
Tear Gas
Trauma
Veterinary Clinics
Virucide
Water and Sewer Damage
Disinfection of Medical and Health Care Facilities
Product is sold in 4 gallon kits. Each kit purchased will include 2 gallons of MDF-500 Part A and 2 gallons of MDF-500 Part B
Return to Products | Rolls | Cases | Go to My Cart