Comments Off on
5 Benefits of Garage & Roof Insulation with a Thermal Barrier Coating
A building of any sort is an investment and should be properly protected. This includes protecting the exterior from the elements and protecting the people and property inside from the heat or cold. A thermal barrier coating provides garage and roof insulation along with a variety of other benefits.
ThermaCote® is a proprietary thermal barrier coating—made by our company of the same name—that provides superior corrosion, abrasion, and weather resistance. It creates its own layer of insulation and also protects and reinforces the building's existing insulation, which can degrade over time. By keeping more warm or cool air in the building, you save energy and prolong the life of your heating and cooling units. Best of all, ThermaCote® is a sustainable product.
ThermaCote® has several eco-friendly accreditations, including ratings from the Cool Roof Rating Council, EnergyStar and is MAS Certified Green. ThermaCote® is made with a water-based acrylic formula with ultra-low volatile organic compounds (VOCs). You can use ThermaCote® with the assurance that it is not harmful to the environment. Our company is a member of the U.S. Green Building Council and the Green Chamber of the South, which focus on bringing Green materials and technology into focus in the construction industry.
ThermaCote® is high-performance and versatile, as it can be applied internally or externally. It serves a variety of commercial and residential structures, including houses, warehouses, sheds, and detached garages.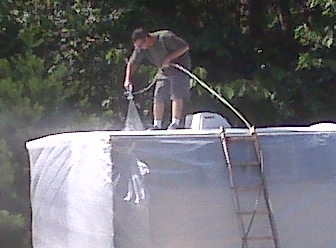 What are the Benefits of Sealing a Detached Garage?
Detached garages and workspaces are becoming increasingly popular. Some owners appreciate the opportunity to create a second living or working space within the detached garage as it offers greater privacy, while others convert attached garages into additional bedrooms, offices, guest houses, or playrooms and build a separate detached garage for the vehicles and storage.
In the long-term, adding a second level to a detached garage is often easier than trying to build on top of an attached garage. Detached garages can be hidden away or set back from the street, allowing for a more attractive entrance to the home. Today's homes are built with a garage-forward facade, while many homeowners are seeking garages with more aesthetic appeal, which makes a detached garage ideal.
A detached garage is an asset to your home and it should be treated with the same level of care and protection as the rest of your property. The property inside and the building itself should be protected and ThermaCote® is an easy and affordable way to provide garage and roof insulation. It comes in a variety of colors and features the following five benefits:
Energy savings: Keep warm or cool air inside the building and reduce the strain on your heating and cooling systems.
Longevity and protection: Reduce the signs of wear and tear from the weather, debris, and more.
Heat reduction: ThermaCote® is highly reflective, which supports heat resistance in your substrate.
UV protection: ThermaCote® offers a barrier against damaging UV rays.
Easy installation: Simply spray to apply. With the right equipment, including a professional-grade sprayer, most users can apply ThermaCote® themselves (and we have a thorough application guide to help). If you don't have the proper equipment, we can help you select what you will need, or you may want to hire someone to do it for you. Either way, the process is simple and can be completed in a short period of time.
Whether you're building a new detached garage or simply want to seal the old one, ThermaCote® is a simple, cost-effective, eco-friendly method of garage and roof insulation for your detached garage and other buildings. It adheres to almost any clean, dry surface, so it's an ideal solution no matter what material your garage is made of.
Thermal Barrier Solutions from ThermaCote®
For more than 30 years, we have been creating technologically advanced weather barriers to improve your building's energy efficiency and protect it from the elements. We're proud to develop environmentally friendly products that meet your needs for protective coatings. To learn more about ThermaCote®, please contact us. We're happy to answers any questions you have about the product, its application, or the importance of a thermal barrier coating.