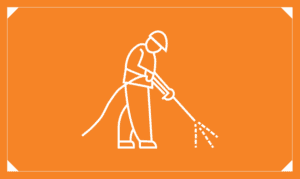 For over 30 years, ThermaCote, Inc. has been an industry innovator in energy saving, weather barrier coatings. Our efficient, safe, and cost-effective roof sealant ThermaCote®, in addition to our ThermaCote® Roof Repair Tape, can be your solution to a wide variety of roof applications. ThermaCote, Inc. holds several important accreditations, including:
Cool Roof Rated Product, CRRC
MAS Certified Green
UL Qualified Product
ISO 9001:2015 Registered Company
Our flagship product shares the company's name. ThermaCote® is a high-performance weather barrier coating that offers high corrosion resistance, aids in energy conservation, and provides protection for residential, commercial, interior, and exterior applications. ThermaCote® has many different applications and is exceptional at the mitigation of thermal barriers, which makes Cool Roofs something we specialize in.
In a simple spray on application, ThermaCote® gives your building's roof a durable coating that protects and sustains the life of the structure, while adding increased insulation and a reflective coating for better energy efficiency and savings. The greater reflectivity and emissivity of ThermaCote® means that the roof stays cooler, consumes less energy and reduces demand during peak periods. The more solar energy reflected causes less heat to be transferred into the building. Combining highly reflective and emissive roof surfacing with the proper amount of roof insulation can significantly reduce heat gains inside the building and reduce energy costs and utility expenses. ThermaCote® also provides extra protection to the underlying substrate to increase resistance to weather, corrosion, and other elements. ThermaCote®, when used in a Cool Roof application, provides a reflective, emissive surface that meets California's Title 24, LEED requirements, as well as the requirements for a Cool Roof Rated Product with a Solar Reflectance (SR) of 0.64 and a Thermal Emittance (TE) of 0.86 (aged results).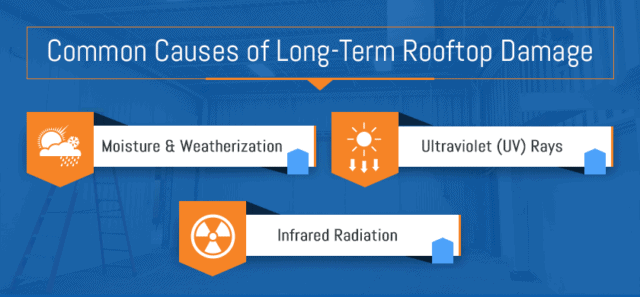 What Causes Roof Damage?
Regardless of the substrate, there are three major factors that act as common causes of long-term roof damage. They include:
Moisture & Weatherization. High volumes of precipitation and humidity can cause a roof substrate to weaken and deteriorate over time. Oxidation and chemicals in the environment (acid rain)) can also cause unseen damage to your roofing substrate. This can eventually lead to leaks, and damage to other parts of the structure.
Ultraviolet (UV) rays. UV rays act as a catalyst for a chemical reaction that can break down substrates on a molecular level. UV rays also contribute to the build up of heat in your roofing materials. Exposure to an outdoor heat source, in addition to any interior, rising heat can create a high level of heat transferring from your roofing substrate to the interior.
Infrared radiation. Infrared radiation is a component of the sun's natural light. When sunlight shines on a roof, infrared energy magnifies the effects of UV rays and speeds up the damaging chemical reaction, while adding to the heat load carried by the substrate and increase the thermal transfer into the interior of the structure.
ThermaCote® protects the surface substrate and is able to extend the lifespan of the roof. Home and business owners should consider the application of a roof coating as a protective measure against these damaging factors. Not only is this an investment into the structure itself, the reduction in heat will reduce expenditures related to energy costs later.
There are several benefits that come from installing ThermaCote®, which include:
Reduced Energy Costs. With less heat penetrating to the roof, a building's HVAC system can run more efficiently, thus saving on energy costs and reducing the production of Carbon Dioxide.
Maintains Temperatures. With an effective roof coating in place, a building is able to maintain its interior temperature for longer. This means that your structure will benefit from retaining heat in the winter months, and retaining cool air during the summer months.
Enhanced Weather Protection. ThermaCote® will help stave off roof decay caused by moisture, corrosion, abrasion, and UV exposure.
No Harmful Environmental Impacts. ThermaCote® is an eco-friendly roof coating are that has Ultra-Low Volatile Organic Compounds. The high percentage of solids reduces emissions because there is less loss of material during curing. This means that applicators can breathe easy, and structure owners can worry less knowing that there is nothing harmful being released into the atmosphere during curing or off-gassing.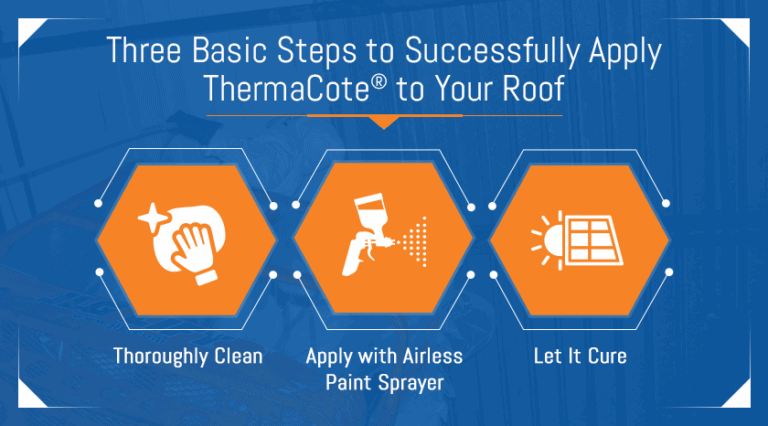 How to Apply ThermaCote® Roof Sealant
There are three basic steps to successfully apply ThermaCote® as a roof coating to your current roofing system.
It is important to thoroughly clean off your roof in order to ensure a smooth, debris-free surface on which to install the coating material. Be sure to repair all cracks, tears, or seams in the roof with a filler or membrane (ThermaCote® Roof Repair Tape, for example) if possible, prior to application.
Using an airless paint sprayer and the appropriate accessories, the applicator will apply ThermaCote® onto the roof's surface in an even coat. The spray application of ThermaCote® makes for a quick and simple application.
Once ThermaCote® has been applied to the roof, you simply need to let it cure per manufacturer instructions.
Cool roofs and the reduction of energy use from heat transfer are what our team at ThermaCote, Inc. specializes in! For more details on the technology behind our product, tests, certifications, and how we can help with innovations for your project, please reach out to us today!